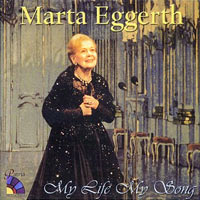 Marta Eggerth: "My Life My Song"
Marta Eggerth made some 40 movies mostly in Europe before World War II and appeared in numerous operetta roles most notably as Hanna Glawari in Lehar's The Merry Widow on Broadway together with her husband, the Polish tenor Jan Kiepura.
This album contains her most famous repertoire including selections by Franz Lehar, Emmerich Kalman, Robert Stolz, Paul Abraham and other operetta luminaries, who specially wrote works for her. She has established herself as one of the most famous exponents of the operetta genre till today.
Audio player requires javascript.
CD 1
CD 2