Jane Knox-Kiepura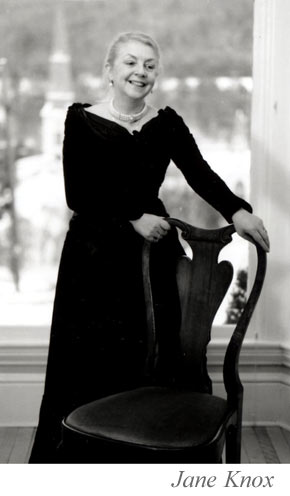 Jane Knox-Kiepura, co-owner and Vice President, of Patria Productions Inc. Littleton New Hampshire, was born in Melbourne, Australia. Her early childhood was spent in Spain, Portugal and England. She received her Bachelor of Arts Degree - Magna Cum Laude from Marymount Manhattan College in New York City. She was elected a member of Alpha Chi and gave the Salutatorian Speech at Alice Tully Hall at Lincoln Center. Awards included "The Gold Cross Award", for academic excellence.
Her career has carried her to Washington D.C. where she worked at the World Bank and later at the Organization for Co-operation and Development (OECD) in Paris, France.
Jane has also been appearing as a public speaker for many years including giving poetry reading in New Hampshire and New York She has appeared as a narrator with her husband, the pianist, Marjan Kiepura including JASA, The Gerson Arts Series. the 92nd Street Y and the Kosciusko Foundation in New York.
Together with Marjan, the son of the renowned stars of Opera, Stage and Screen Marta Eggerth and Jan Kiepura, they produced the internationally acclaimed CD Marta Eggerth "My Life My Song". Jane also co-produced and narrated "Marta Eggerth and Jan Kiepura in Film and Song" at the Leo Baeck Institute in New York City, the New Rochelle Opera Company and in the Ohio Light Opera 2016 Season, at the College of Wooster Ohio.
More recently Jane co hosts a successful Podcast Series in Littleton NH entitled Marjan's Musical Soirées where Marjan shares insights and reflections on his musical heritage and his own musical career.
Jane is an avid collector and researcher of early Australian history particularly the early Pubs and the life of the Publicans in Sydney and Parramatta and greatly enjoy writing on this subject. This was on discovering her ancestors connections to the early Pubs and the history behind them.
Upcoming events include participating in a Panel Discussion at the Austrian Cultural Forum in New York on February 24th, following a screening of Zauber der Bohème (The Charm of La Bohème; German original with English subtitles). The 1937 classic movie seen as the last big success of Eggerth and Kiepura in Austria before emigrating to the US This even is in conjuction with ongoing exhibit on on show at the Exilarte Center in Vienna.