Patria Productions: News & Reviews
Marjan Kiepura's CD - "Images of a Homeland"
CD and MP3 Reviews
Marjan Kiepura's Chopin CD is "among my all-time favorite recordings!" - May 24, 2013
Steven Turpin, Classical Music Coordinator, Morning Musicale host - Indiana Public Radio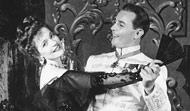 The Merry Widow - Marta Eggerth and Jan Kiepura Remembered
"Kiepura speaks Chopin's Polish rhythmic language fluently, as a mother tongue."
Jonathan Bellman - American Record Guide.
"Marjan Kiepura is a highly gifted pianist...Here is Chopin played from the heart with a real feeling for the mazurka rhythm"
BBC Radio 3 Program "Essential Classics" hosted by Rob Cowan, commenting on Marjan Kiepura's CD.
"...this CD makes a strong, individual and lasting impression."
Jessica Duchen, Pianist Magazine, London.
"...(Marjan Kiepura)...played with impressive empathy and an energetic response to the character rhythms of Chopin's writing."
BBC Radio 3's weekly program "CD Review" with presenter and critic Andrew McGregor, reviewing mazurkas from Marjan Kiepura's Chopin CD, broadcast on January 30, 2010.
Live Concert Review:
"Marjan Kiepura plays and radiates the music of Chopin from the depth of his soul."
Salmon Media Press, Laura Brown, Editorial Assistant - The Littleton Courier – Sept 9, 2015
Sampling of Live Concert Reviews
"Sounds in the Sanctuary Series" at the Bethlehem Hebrew Center, Bethlehem New Hampshire - Sept 9, 2015: Salmon Press Media
Last month we had an enthusiastic audience for our first concert of this music series with the noted pianist Marjan Kiepura and narrator Jane Knox. Mr. Kiepura's pianistic virtuosity, ability to create an array of tonal colors, and sensitive interpretations of works of Chopin provided an uplifting experience.
"SUNDAY MUSIC SERIES" - New York City – Sept 20, 2015
Our Lady of Good Counsel-St. Thomas More Bulletin
"Pianist and Littleton resident Marjan Kiepura gives brilliant dynamic concert performance in Gorham, NH" - By Elizabeth Hill special to "The Courier", Littleton, NH
Images of a Homeland : The Music of Frederic Chopin
at 92nd Street Y's 60+ program, New York
Surroundings Art Gallery Newsletter - Sandwich, New Hampshire, July 24, 2013. Wednesday Evening Piano Recital Series
"We had a full house last Wednesday night to hear Marjan Kiepura play a number of Chopin works, together with narrator Jane Knox-Kiepura.
"Marjan Kiepura brought Chopin's homeland to life with his performance of Chopin masterpieces."
Review of master class and workshop on Frederic Chopin
by Marjan Kiepura at the Vivace School of Music, St Johnsbury Vermont, Oct 8, 2012 (2.26 MB PDF file)
Marta Eggerth: My Life, My Song