The Merry Widow - Marta Eggerth and Jan Kiepura Remembered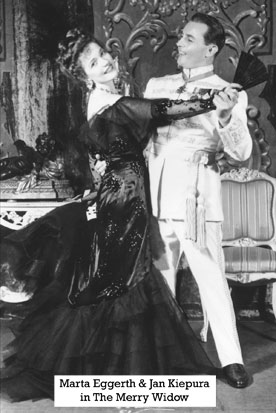 Renowned singers Marta Eggerth and Jan Kiepura were remembered as the leading exponents of Franz Lehar's most famous operetta, The Merry Widow, on Vermont Public Radio on Saturday, January 17, 2015.
Opera expert Peter Fox Smith and producer of the weekly "A Passion for Opera" program hosted Eggerth and Kiepura's son, pianist Marjan Kiepura, who brought recordings of his illustrious parents. Selections included especially Franz Lehar, also Fritz Kreisler, Robert Stolz, John Kander as well as unpublished excerpts. Recordings stretch from the 1930s to 2002 with Marta Eggerth singing at age 90.
Marta Eggerth and Jan Kiepura performed The Merry Widow over 2000 times in five languages in major music capitals worldwide, more than anyone else in history.
The radio program was followed by a live broadcast of The Merry Widow from the Metropolitan Opera.
VPR Program Playlist
Fruehlingstimmen Waltzer:
Composer: Johann Strauss II
Soloist: Marta Eggerth
CD/Album: Marta Eggerth - My Life My Song
Record Company/Cat # - Patria Productions. Inc. KIE3000
Release Year 2004
Schau mich an, sei mir gut:
Composer: Franz Lehar
Soloist: Marta Eggerth
CD/Album: Marta Eggerth - My Life My Song
Record Company/Cat # - Patria Productions, Inc. KIE3000
Release Year 2004
Die ganze Welt dreht sich un Liebe:
Composer: Franz Lehar
Soloist: Marta Eggerth
CD/Album: Marta Eggerth - My Life My Song
Record Company/Cat # - Patria Productions, Inc. KIE3000
Release Year 2004
Musetta's Waltz:
Composer: Giacomo Puccini
Soloist: Marta Eggerth
CD/Album: Marta Eggerth - My Life My Song
Record Company/Cat # - Patria Productions, Inc. KIE3000
Release Year 2004
Einer wird kommen:
Composer: Franz Lehar
Soloist: Marta Eggerth
CD/Album: Marta Eggerth - My Life My Song
Record Company/Cat # - Patria Productions, Inc. KIE3000
Release Year 2004
Mein Liebeslied muss ein Walzer sein:
Composer: Robert Stolz
Soloist: Marta Eggerth
CD/Album: Marta Eggerth - My Life My Song
Record Company/Cat # - Patria Productions, Inc. KIE3000
Release Year 2004
The Old Refrain:
Composer: Fritz Kreisler
Soloist: Marta Eggerth/ William Hicks, Piano
CD/Album: Marta Eggerth - My Life My Song
Record Company/Cat # - Patria Productions, Inc. KIE3000
Release Year 2004
Married:
Composer: John Kander
Soloist: Marta Eggerth/ William Hicks, Piano
CD/Album: Marta Eggerth - My Life My Song
Record Company/Cat # - Patria Productions, Inc. KIE3000
Release Year 2004
Wien, du Stadt meiner Traeume:
Composer: Rudolf Sieczynski
Soloist: Marta Eggerth/ William Hicks, Piano
CD/Album: Marta Eggerth - My Life My Song
Record Company/Cat # - Patria Productions, Inc. KIE3000
Release Year 2004
Bei einem Tee-en-deux:
Composer: Franz Lehar
Soloists: Marta Eggerth and Jan Kiepura
CD/Album: Jan Kiepura Volume II
Record Company/Cat # Pearl GEMM CD 9079
Release Year 1993
Nur die Liebe macht uns jung:
Composer: Franz Lehar
Soloists: Marta Eggerth/ Marjan Kiepura, Piano
Unpublished private recording
Live concert Wiesbaden Opera
1992
Neapolitan Duet:
Composer: Franz Lehar
Soloists: Marta Eggerth and Jan Kiepura
CD/Album: Marta Eggerth - My Life My Song
Record Company/Cat # - Patria Productions, Inc. KIE3000
Release Year 2004
Merry Widow Waltz - arrangement by Marjan Kiepura:
Composer: Franz Lehar
Soloists: Marta Eggerth/Marjan Kiepura
Private Recording from concert at Dartmouth College 1992
Merry Widow Medley - arrangement by Marta Eggerth in 4 languages:
Composer: Franz Lehar
Soloists: Marta Eggerth/ William Hicks, Piano
CD Album: Marta Eggerth - My Life My Song
Record Company/Cat # - Patria Productions, Inc. KIE3000
Release Year 2004